In move that will prove good for my own health I am at least temporarily banning McDonalds. Not because of things I read in
Fast Food Nation
, nor for their playing god with their freakish McGriddle sandwich, but for what happened this morning as I tried to purchase a delicious breakfast bagel. Signs and posters celebrating the Yankees 100th anniversary. Is it not bad enough that the YES network has written the Daily News' entire sports section. There are contests, and trading cards and stickers on the floor. Ughh! Is it not bad enough that all the fake Yankees fans are out and about because they are good now, but McDonalds (which used to own the San Diego Padres) is now pandering to the drooling masses.
YANKEE SPEAK
"What the Yanks are in first place, I'm a life long fan!! I got a temporary tattoo of the Yankees logo on the small of my back!"
So when McD's gets rid of the Yankees stuff I'll go back. But until that time comes, you won't see me anywhere near the golden arches!!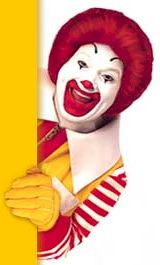 Guess where my other hand is kids!