Picture of the Week!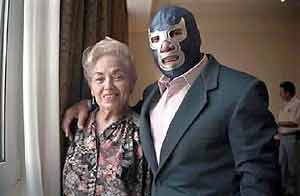 Things overheard at the Azul Avengers house
-Law school was just not for me
-Grandma and I are in love, and yes this is a wrestling mask
-No mom, this is not just a phase
-Just beacuse I'm wearing a pink shirt doesn't mean I'm gay!
-NO ONE WILL STOP THE MIGHTY FORCES OF THE AZUL AVENGER AND THE ABUELITA FROM HELL AS WE REEK HAVOC UPON YOUR CANDY ASSES IN THE EVENT OF THE CENTURY ... FAMILY EDITION PICTIONARY!!!