With war still raging in Iraq and Afghanistan is there any way better to honor the freedom all of our veterans past and present have fought for over the years than really having a kick-ass weekend.
I ended up working on Friday, ahh extra money, and it was a full day of non-SAP editorial work. It was one of the best days since mid-March. I caught stuff that copyediting missed like 10 times. That's a right bitch! Kelvin was supposed to come up from Baltimore to help Rachel move down with him. Mike, Dave and I were going to hang out with Kelvin, but car troubles (perhaps Squilky's mysterious query?) delayed his arrival by 24 hours. So would our helping him move his stuff.
With an early day opened up in the weekend Ani and I decided to go fly a kite. So after returning that hideous Mooseport crap, Ani and I went over to Toys R Us and picked up a kite and some extra string. And then we headed out to Cantigue Park. Though we were having some camera problems, and the kite got caught up in a tree, we had a really good time.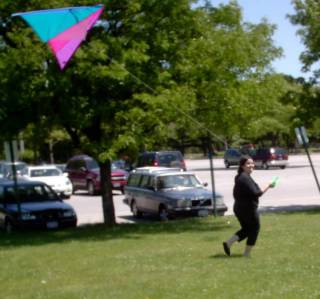 Afterwards we saw Shrek 2 … and all the experts who say, "Oh this is a great movie blah blah blah" are idiots. To afraid to say they hated a crappy movie, fearful that people will say they are stupid and don't get it. This movie sucked. Ok Puss N Boots was awesome. But ughh, I wished they stayed human at the end, so there wouldn't be Shrek 3 … oh sorry I ruined the end for you, save your money and go see Napoleon Dynamite on June 11th. Well worth your ten dollars. Ani and I might go see it again, and actually pay this time!
Kelvin finally arrives in town. It's kind of late, but we were going to meet up the next morning to fill up the truck. So I wake up early on Sunday, catch a little of This Week with George Stephanopolous, and the Sports Reporters and I head out to Mom's house to help with the move. Mike I find out is still sleeping. I go upstairs and Rachel, who has a badly cut hand, tells me that Kelvin is getting his hair cut. So walk over to Eddies (formerly Marco and Eddies).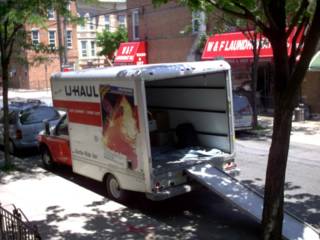 Kelvin is getting his fro shaved, and I give Dave a call. He was out with his Dad (happy birthday) and he'd catch up later on. By the time Kelvin and I make it back to the house, Mike is awake and the loading and arguing start. We take the truck over to Kelvin's aunt's house; Mike rides on the outside like a garbage man. We grab some stuff and this time it's my turn to ride in the back. With stuff back there, we had to lock the doors, so I was sitting on the floor in this totally black room. What was cool was you could really tell turn by turn where we were.
Now back at the house, we start bring down box after box, there is some arguing between Rachel and Kelvin (I'm so going to miss that), but eventually we get everything packed in. No one kills them selves. Mike and Erin wash dishes, since Rachel's hand was badly cut. I couldn't believe Mike knows how to wash dishes.
All this while Ani is watching "Raising Helen"; thank the maker I didn't have to see that one. She mentioned that they showed a preview for "Napoleon Dynamite" (coming to theatres June 11th) and the audience was laughing like nobodies business. Wait till they see the whole movie.
So after we finish packing up, Mike and Kelvin come back to my place to help me move the closet I bought last week. After we get it into the proper space.
OFF TOPIC
I'm listening to "I love the way you move" by Outkast right now, and is Puffy's old man servant in Outkast now or is he their manservant. What the fuck.
We discover that the main support beam is broken. Fucking Swedish! So I'll have to venture out to Ikea sometime this week to get a replacement part. Mike and Kelvin took off. I tried to find Ani, but she was till in the movie, so I caught most of "The Warriors" on Showtime. What a great fucking movie that is. Ani calls and I pick her up on Austin Street. We pick up a few things at C-Town, and head back home. I can't recall what we did last night though.
Today, being the rainy day of the weekend we decided to see "Saved!" It was only playing in three theaters within 30 miles of us. So we were going to see it at Union Square or Times Square, whichever bus got there first. The bus aiming at the R-V-E trains got there first so Times Square it was. This theatre was massive. We got there in plenty of time, got some snacks and got seats dead in the middle. And low and behold yet another preview fro "Napoleon Dynamite," this movie could be huge! Anyways the movie was really good. A little obvious at times, but it was very entertaining. Susan Sarandon's daughter, who played the rebel girl, the only Jewish student at the born again Christian school, was really good and so much hotter than a young Susan Sarandon.
What was nice was that the kids looked like teenagers. The end had a very preachy moment, but this movie kind of needed it. I liked it. Afterwards Ani and I went and got some Thai food, and headed home. And now I'm writing this.