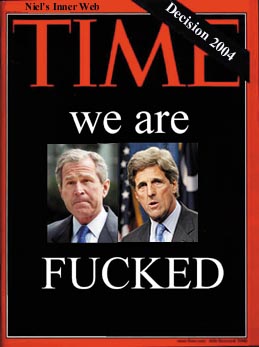 Tonight was an interesting one politically wise. President Clinton was on Larry King. He was so insightful and thoughtful. Not sure if he was faking or not. But so Presidential. He kept putting John Kerry over which is good, considering that had Al Gore let him do that in 2000, there wouldn't have been an opportunity for Dubya to steal the election, but I digress.
I kind of want to read his new book "My Life" but I'm not sure I have the attention span to read a 947 page tome. But on the subject of books, I'm reading a book about the possible murder of Kurt Cobain. Its weird both Ani and I still think very fondly about Seattle. I think the next book I'm reading is going to be "Fahrenheit 451" it came to me when Ray Bradbury started saying that Michael Moore had no right to use the name.
I went to the Chuck Palahniuk website and they have the most
disturbing link.
I like good humor and all, and more likely than not I'll order a button. But in an election year like this one, is this the right thing to do. This site isn't sponsored by Chuck or the guys at the website, but as they put it up to share, I do the same.