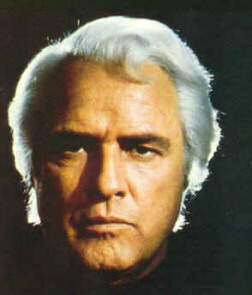 I watched a snail crawl along the edge of a straight razor. That's my dream. That's my nightmare. Crawling, slithering, along the edge of a straight... razor... and surviving.
LOS ANGELES (AP) - Marlon Brando, who revolutionized American acting with his Method performances in "A Streetcar Named Desire" and "On the Waterfront" and went on to create the iconic character of Don Vito Corleone in "The Godfather," has died. He was 80.
Brando died of lung failure Thursday evening at UCLA Medical Center, said Roxanne Moster, a spokeswoman for the medical center. She didn't give details.
But if you are like me the definitive roles in Marlon Brando's life were as Apocalypse Now's psychotic zealot Colonel Kurtz. And as Jor-el father of Kal-el known to many as Superman. Jorel sent his only son (the last son of the doomed planet Krypton )to earth where he would become a great hero, and eventually suffer spinal cord damage.
I have never seen any of the Godfather movies
I distinctly remember Larry King riding Marlon Brando like a llama
Of the 50 or so movie he made I have only seen 3 (Superman, Apocalpypse Now and On the Waterfront)