Sometimes there is one of my co-workers who I just want to punch. This person thinks they are so above their own position. This one asked me for something, and keeps asking me for other stuff. Hey I already have two bosses, I'll help out when I have time.
But hopefully soon I'll be promoted and this persons equal. Quicker than they got there. And eventually I'll pass them along the way. Because time is still on my side.
I hate sounding like such a jerk, but what can I do? I feel so under utilized here. My bosses are both great but I am so much more than a copier/accountant. I think they know that.
Its a rough day at work when the main highlight is that the vending machine has "Whatchamacallits" in it.
I am all skeeved out that all these movers/painters/architects are here on our floor ... not at them persay but at the fact that they are all using the Men's room. Since the moving started and they closed the bathroom on 13, our rest room has been disgusting
Back to this one who is getting on my nerves. Not only does this person always champion these loser titles, but they think that people actually read these pieces of crap. These books are for weirdoes like said person. I was asked last week to try to overnight 25 copies of one of these books to the author. It was probably the only 25 that left the warehouse this week, I don't think we need to spend the expense of overnighting them - they certainly are not going to run out.
On a completely different subject ...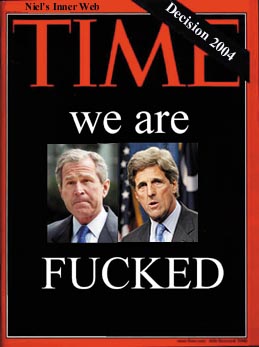 One of my bosses was in Paris and she met this freakishly tall guy 6'8" who was talking about politics, and the big buzz going around is that at the Republican National Convention, Vice President Dick Cheney will step down for the re-election and former New York City Mayor Rudy Guiliani will step in. Why not the GOP is in New York to use 9/11 as a prop for the campaign, why not use Rudy as well.
And yes my moratorium on politics is up as the convention has officially ended.