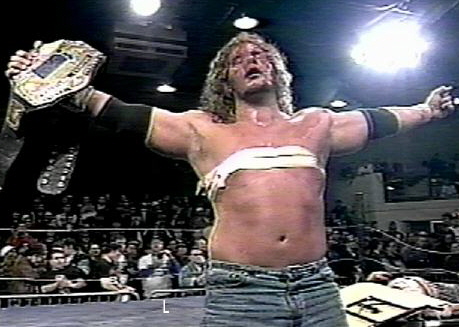 Introduction
Since 1995, Professional Wrestler Scott Levy has prortrayed the character Raven, a depressed sociopath clad in grunge inspired clothing. Before taking on the Raven gimmick, Levy had some success but his career took off after becoming Raven winning three World Championships.
Challenging
:
Activity requires a certain amount of expertise or physical fitness.
Train at a reputable wrestling school, to learn the basics of the ring and to gain experience.

Create a sociopathic alter ego. This character should be morose and un-empathetic, start .

Start feuds with popular and "over" wrestlers where you will come out on top most of the time, but putting your enemy over by making him look resilient by trying and trying to defeat you.

Assemble a small army of flunkies who will put their necks on the line for you and your goals. Do not reciprocate this loyalty.
The Raven gimmick was "over" with the fans because it was original at the time. Imitators have failed to gain the popularity or notoriety that Levy achieved by using this gimmick.
Levy as Raven was ranked 168, in Pro Wrestling Illustrated's all time top 500 wrestlers list in 2003.
The Raven gimmick was used mostly in so-called hardcore wrestling situations. As opposed to traditional professional wrestling, hardcore wrestling utilizes so-called foreign objects such as tables, chairs, barbed wire, and fire in the matches.
Professional wrestlers,

Jewish athletes,

Jewish Professional athletes,

Extreme Championship Wrestling,

World Wrestling Entertainment,

Total Non-Stop Action Wrestling,

National Wrestling Alliance,

List of ECW champions,

List of WWE Hardcore champions,

Grunge wrestling gimmicks,

Literature based wrestling gimmicks